Upcoming Events...
Monday, 17th February 2020
Mid Term Break (Pupils off)
Tuesday, 18th February 2020
Mid Term Break (Pupils off)
Wednesday, 19th February 2020
Mid Term Break (Pupils off)
Thursday, 20th February 2020
Mid Term Break (Pupils off)
Friday, 21st February 2020
Mid Term Break (Pupils off)
Wednesday, 26th February 2020
P6/7 swimming
Thursday, 27th February 2020
Trevor will collect Credit Union deposits (9am)
Friday, 28th February 2020
Ceili Dancing for P5,6,7 (11am)
Welcome
Dear Parents / Guardians
Welcome to our school website which is intended to give you an insight into school life in All Saints'. Here you can keep up-to-date with the exciting events and innovative learning that takes place in our school, throughout the busy school year.
Some changes for the year ahead from Sept 2019
Hello and welcome back to All Saints' P.S. for what is sure to be another busy, but fun-filled year ahead. There are a few changes from last year to classes and over the coming months the website will be updated to take account of these changes, but in the mean time the changes have been listed below.
Reception and Year 1 Teachers: Principal Mrs Briege Daly (Mon & Tues) and Mrs Claire Tierney (Wed, Thurs & Fri).
Reception and Year 1 Classroom Assistants: Mrs Audrey Campbell and Miss Claire McLaughlin.
Year 2/3 Class Teachers: Miss Karen O' Donnell.
Year 2/3 Classroom Assistant: Miss Tara McCrossan.
Year 3/4 Class Teachers: Mrs Doreen Barrett (Mon/Tue) and Mrs Roisin Marley (Wed - Fri).
Year 5/6 Class Teacher: Miss Sinead Conlon.
Year 5/6 Classroom Assistant: Miss Clare Mc Gale.
Year 6/7 Class Teacher: Mr Gary Mc Kenna.
Year 6/7 Classroom Assistants: Mrs Louise Kirwan and Mrs Karen Mc Laren
ASDA Green Token Scheme

Thank you to everyone who helped collect the green Asda tokens for our school. Although we didn't win the top prize of £500, we still managed to claim the runner up prize of £200. Many thanks to everyone and also to the staff at our local Asda store, particularly Colleen Heaney, who delivered the cheque! A great gift to receive.
School Marathon Relay

On Friday 5th April, we held a 'School Marathon Relay' on our school grounds. All pupils participated brilliantly in what was a fantastic fundraiser for the school and 'fun-tastic' day for all concerned. Every pupil from the Reception class to P7 took part and completed between 100 and 1000 metres to help in completing the marathon distance of 26.2 miles (or 42,195 metres) in 2 hours and 44 minutes. Lots of teachers and parents even joined in with the running too, before the youngest and eldest child in the school completed the final lap, being loudly cheered home by all the other tired, but happy pupils and staff.
We would like to say a massive thank you to everyone involved, but especially the children and their families for raising over £2,500 in sponsor money for the school funds. An amazing amount of money, which far surpassed our wildest expectations. Well done to one and all.
Photographs of the event will be posted in the coming days.
Breakfast Club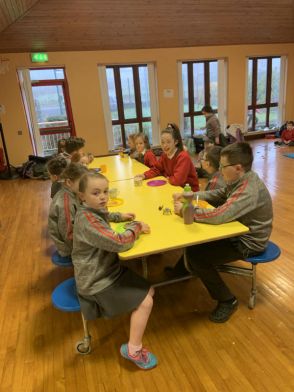 World Book Day 2019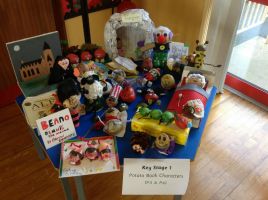 House Points
Sept 2019 - Jan 2020 House Point Totals
SAFER INTERNET DAY 2019

This week (4th-8th Feb) All Saints' P.S. will celebrate SAFER INTERNET DAY.
All classes will discuss and learn how to stay safe whilst online and we hope to spread awareness of the importance of our 'digital footprint', particularly with the rising popularity of Social Media apps such as Snapchat and Instagram. Some classes will also participate in an online E-Stream with the EA based on the theme of 'Internet Safety'.
Please click on the 'Think You Know' link below to see how you can help promote internet safety with your child.
All Saints' Primary School, 42 Tattysallagh Road, Omagh, Co. Tyrone. BT78 5BR Telephone: (028) 82243233