P6/7
Miss Mc Sorley teaches P7 and is supported by Classroom Assistant, Róisin.
P7 have lots of interesting things to learn and skills to develop this year. We have a big responsibility as we are the role-models for the younger classes. Every month, 2 new prefects are selected and have special responsibilities in the school for that month. We also have 2 elected members in the School Council. We have a busy year with some children sitting the Transfer test and with Confirmation later in the year.
In Literacy, we read from a wide variety of genres and resources, including a wide range of fact books and novels, digital books, internet, newspapers and leaflets. We learn lots of new things about Grammar and Punctuation. We are exposed to a wide variety of writing types, including persuasive, explanation, poetry and narrative writing. We take part in the Accelerated Reading Programme and develop our skills in presenting, discussing and questioning.
In Numeracy, there is a lot to cover! We work on Number at the beginning of the Week and look at various Maths Topics later in the week, including Handling Data, Measures and Shape and Space. We develop our Maths Processes throughout these activities.
In World Around Us, we study a range of topics. This year will include Bridges and Frozen Planet, along with a history based topic. We tie in lots of other subjects to our themes, including ICT, Art, Music, Drama and PDMU as well Numeracy and Literacy. We incorporate ICT into a lot of the curricular areas too. In PE we have opportunities to learn skills in hurling and swimming. We play other games and develop skills within our own class PE lessons during the year too. We take part in various tournaments and blitzes, representing our school.
What we've been doing...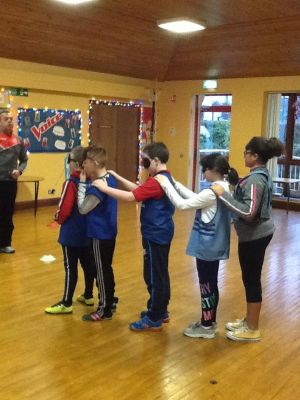 A blindfolded teamwork activity in Gaelic with our coach Fergal McCann
Photos of topic work... bridges experiments
Photos of topic work... bridges experiments
Photos of topic work... bridges experiments
Photos of topic work... bridges experiments
Photos of topic work... bridges experiments
Photos of topic work... bridges experiments
Photos of topic work... bridges experiments
All Saints' Primary School, 42 Tattysallagh Road, Omagh, Co. Tyrone. BT78 5BR Telephone: (028) 82243233