Welcome To Mr McKenna's P4/5 class webpage
My name is Mr McKenna and I am very much looking forward to teaching P4/5 this year, hopefully in the classroom, but should we have to return to teaching remotely we will use SeeSaw, as the children are now all familiar with this software.
In Literacy we will be working on lots of different genres of writing, although we will mainly be focussing on Persuasive, Narrative and Explanation texts this year, having looked at Instructional, Reports and Recounts in depth last year. Within our writing we will also be focussing on handwriting, punctuation & grammar. We will be kept very busy with our spelling programme (Soundswrite) and we are excited to complete the different activities within it. We will look at a variety of narrative and non-narrative texts and read a variety of fiction and non fiction books by lots of different authors, like Roald Dahl and Julia Donaldson. We will also participate in the Accelerated Reading Programme.
In Numeracy, we will be learning lots about Processes in Maths, Number, Handling Data, Measures and Shape and Space. We will have opportunities to use ICT in Numeracy, including the use of laptops and iPads to access a range of Numeracy Apps, including Mathletics.
In World Around Us this year, we will be concentrating on three main areas. The first topic we will be studying from September until Christmas will be - Rainforests. We will complete lots of cross curricular activities that will incorporate Art, ICT, Literacy, Maths and PDMU, while learning about what a rainforest is, where they are located, animals that live in it, how these amazing habitats are being destroyed and ways in which we can help to safe them. In our second topic title 'Prehistoric World' (From Stone Age to Iron Age) we will be learning how archaeologists find out about the past, exploring cave men of the early Paleolithic period of the Stone Age, exploring the lives of people in the Mesolithic period of the Stone Age, finding out what fossils are, how they are formed and what they can tell us about dinosaurs and much, much more all in a cross curricular way. Finally our third topic will be titled 'Reach for the Stars', where we will be defining the solar system and what it contains, examining the different objects within a solar system, exploring how the rotation of the Earth around the sun creates day and night, exploring the phases of the moon, finding out the names of the planets in our solar system, finding out about the Space Race between the USSR and USA and space exploration, exploring the details of the Apollo 11 mission of 1969, the moon landing and much more besides.
For religion, we follow the Grow in Love scheme of work. For PDMU, we will be following the Living and Learning Together scheme and we will aim to do PE every Tuesday and Friday.
We are always very proud of all the work that goes on in our class - so please keep an eye on this page to see what we are getting up to!
Finally, if you have any queries, wish to meet with me or discuss any concerns please contact the school office and I will do my utmost to respond to you as soon as possible. Alternatively, you may wish to email me and again I will try my best to respond to you as soon as possible. My email address is gmckenna707@c2kni.net
Here's to a great year ahead!
Some past examples of things that happen in Mr McKenna's class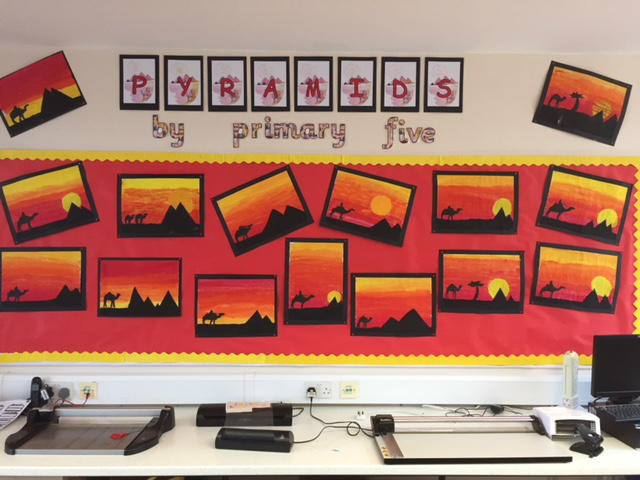 P5's Egyptian Art Display
Making pancakes on Shrove Tuesday
Making pancakes on Shrove Tuesday
Making pancakes on Shrove Tuesday
Making pancakes on Shrove Tuesday
Making pancakes on Shrove Tuesday
Making pancakes on Shrove Tuesday
Making pancakes on Shrove Tuesday
Some of P5's Internet Safety posters
Some of P5's Internet Safety posters
Planting shamrocks
Planting shamrocks
Making plaques for our grandparents
Making plaques for our grandparents
Making 'Sweet Treats' Jars for our grandparents
Our finished grandparent plaques
Our finished grandparent plaques
Some finished 'Sweet Treat' Jars
Making plaques for our grandparents
Enjoying a hurling lesson with Tyrone Star Aidan Kelly
Enjoying a hurling lesson with Tyrone Star Aidan Kelly
Enjoying a hurling lesson with Tyrone Star Aidan Kelly
Enjoying a hurling lesson with Tyrone Star Aidan Kelly
Enjoying a hurling lesson with Tyrone Star Aidan Kelly
Enjoying a hurling lesson with Tyrone Star Aidan Kelly
Enjoying a hurling lesson with Tyrone Star Aidan Kelly
P5 raised £130 for Trocaire with their Easter egg raffle
Enjoying our tasty Hot Cross Buns
Enjoying our tasty Hot Cross Buns
Making Hot Cross Buns at Easter
Making Hot Cross Buns at Easter
Making Hot Cross Buns at Easter
Making Hot Cross Buns at Easter
Making Hot Cross Buns at Easter
Making Hot Cross Buns at Easter
Making Hot Cross Buns at Easter
Making Hot Cross Buns at Easter
Making Hot Cross Buns at Easter
Making Hot Cross Buns at Easter
Making Hot Cross Buns at Easter
Making Hot Cross Buns at Easter
Making Hot Cross Buns at Easter
Making Hot Cross Buns at Easter
Making Hot Cross Buns at Easter
Making Hot Cross Buns at Easter
Making Hot Cross Buns at Easter
Making Hot Cross Buns at Easter
Making Hot Cross Buns at Easter
The Chin Up Challenge during P5/6 PE
The Monkey Bar Challenge in P5/6 PE
The Monkey Bar Challenge in P5/6 PE
The Hop-Up Challenge in P5/6 PE
The Hop-Up Challenge in P5/6 PE
The Hop-Up challenge in P5/6 PE
The Feet-Up Challenge in P5/6 PE
The Step-Up Challenge in P5/6 PE
The Step-Up Challenge in P5/6 PE
The Sit-Up Challenge in P5/6 PE
The Strong-Arm Challenge in P5/6 PE
The Arm-Press Challenge in P5/6 PE
The Step-Up Challenge in P5/6 PE
The Step-Up Challenge in P5/6 PE
The Strong-Arm Challenge in P5/6 PE
The Strong-Arm Challenge in P5/6 PE
The Monkey Bar Challenge in P5/6 PE
The Chin Up Challenge during P5/6 PE
Hurling with our coach Aidan Kelly
Hurling with our coach Aidan Kelly
Using Scratch Programming in P6
Using the Book Creator App to create a book review
Using Scratch Programming in P6
Using Scratch Programming in P6
Using Scratch Programming in P6
Irish dancing prize winner
Ballinamallard Cup and Craigavon Cup winners
P4/5 cheering on the Tyrone All Ireland 2021 winners
Winning a horse riding award
Irish dancing feis winner
All Saints' Primary School, 42 Tattysallagh Road, Omagh, Co. Tyrone. BT78 5BR Telephone: (028) 82243233