Primary 5 Termly Overview
Welcome!
Mrs McGrath teaches P5 and P6 and is supported by Miss Clare McGale. Although Mrs McGrath is on maternity leave so Miss Conlan will teach P5/6 during this time.
In Primary 5 and 6 we are extremely busy and very excited for the 2019/2020 academic year!
In Literacy we will be working on lots of different types of writing as well as Punctuation & Grammar. We will be kept very busy with our new spelling programme (Soundswrite) and we are excited to complete the different activities within it. We will look at a variety of narrative and non-narrative texts and read book by lots of different authors, like Roald Dahl and Julia Donaldson. We will participate in the Accelerated Reading Programme too.
In Numeracy, we will be learning lots about Processes in Maths, Number, Handling Data, Measures and Shape and Space. We will have opportunities to use ICT in Numeracy, including the use of iPads to access a range of Numeracy Apps.
In World Around Us this year, we are looking at: World War 2, Space and Inventions. We follow the Grow in Love (Primary 6 series) for RE and Living Learning Together for PDMU. We also look at The Arts, ICT and PE which our fantastic Hurling and Gaelic coaches take on a Monday and Wednesday morning.
We are so proud of all the work that goes on - so keep an eye on this page to see what we are getting up to!
My door is always open, however, in the best interests of the children, please try to arrange meetings with me for after school so that disruption of lessons is kept to a minimum.
P5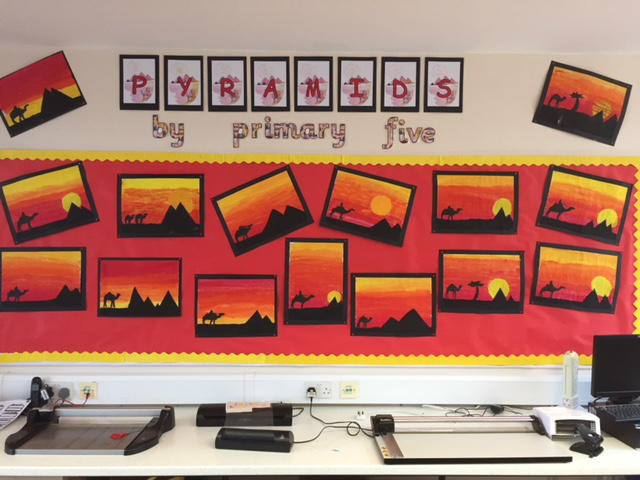 P5's Egyptian Art Display
Making pancakes on Shrove Tuesday (28/2/2017)
Making pancakes on Shrove Tuesday (28/2/2017)
Making pancakes on Shrove Tuesday (28/2/2017)
Making pancakes on Shrove Tuesday (28/2/2017)
Making pancakes on Shrove Tuesday (28/2/2017)
Making pancakes on Shrove Tuesday (28/2/2017)
Making pancakes on Shrove Tuesday (28/2/2017)
Making pancakes on Shrove Tuesday (28/2/2017)
Some of P5's Internet Safety posters (Feb 2017)
Some of P5's Internet Safety posters (Feb 2017)
Planting shamrocks for the 17th March 2017
Planting shamrocks for the 17th March 2017
Making plaques for our grandparents
Making plaques for our grandparents
Making 'Sweet Treats' Jars for our grandparents
Our finished grandparent plaques
Our finished grandparent plaques
Some finished 'Sweet Treat' Jars
Making plaques for our grandparents
Enjoying a hurling lesson with Tyrone Star Aidan Kelly
Enjoying a hurling lesson with Tyrone Star Aidan Kelly
Enjoying a hurling lesson with Tyrone Star Aidan Kelly
Enjoying a hurling lesson with Tyrone Star Aidan Kelly
Enjoying a hurling lesson with Tyrone Star Aidan Kelly
Enjoying a hurling lesson with Tyrone Star Aidan Kelly
Enjoying a hurling lesson with Tyrone Star Aidan Kelly
Enjoying a hurling lesson with Tyrone Star Aidan Kelly
P5 raised £130 for Trocaire with their Easter egg raffle
Enjoying our tasty Hot Cross Buns
Enjoying our tasty Hot Cross Buns
Making Hot Cross Buns at Easter
Making Hot Cross Buns at Easter
Making Hot Cross Buns at Easter
Making Hot Cross Buns at Easter
Making Hot Cross Buns at Easter
Making Hot Cross Buns at Easter
Making Hot Cross Buns at Easter
Making Hot Cross Buns at Easter
Making Hot Cross Buns at Easter
Making Hot Cross Buns at Easter
Making Hot Cross Buns at Easter
Making Hot Cross Buns at Easter
Making Hot Cross Buns at Easter
Making Hot Cross Buns at Easter
Making Hot Cross Buns at Easter
Making Hot Cross Buns at Easter
Making Hot Cross Buns at Easter
Making Hot Cross Buns at Easter
Making Hot Cross Buns at Easter
Making Hot Cross Buns at Easter
The Chin Up Challenge during P5/6 PE
The Monkey Bar Challenge in P5/6 PE
The Monkey Bar Challenge in P5/6 PE
The Monkey Bar Challenge in P5/6 PE
The Hop-Up Challenge in P5/6 PE
The Hop-Up Challenge in P5/6 PE
The Hop-Up challenge in P5/6 PE
The Feet-Up Challenge in P5/6 PE
The Step-Up Challenge in P5/6 PE
The Step-Up Challenge in P5/6 PE
The Sit-Up Challenge in P5/6 PE
The Strong-Arm Challenge in P5/6 PE
The Arm-Press Challenge in P5/6 PE
The Step-Up Challenge in P5/6 PE
The Step-Up Challenge in P5/6 PE
The Strong-Arm Challenge in P5/6 PE
The Strong-Arm Challenge in P5/6 PE
The Monkey Bar Challenge in P5/6 PE
The Chin Up Challenge during P5/6 PE
Hurling with our coach Aidan Kelly
Hurling with our coach Aidan Kelly
Using Scratch Programming in P6
Using the Book Creator App to create a book review
Using Scratch Programming in P6
Using Scratch Programming in P6
Using Scratch Programming in P6
All Saints' Primary School, 42 Tattysallagh Road, Omagh, Co. Tyrone. BT78 5BR Telephone: (028) 82243233